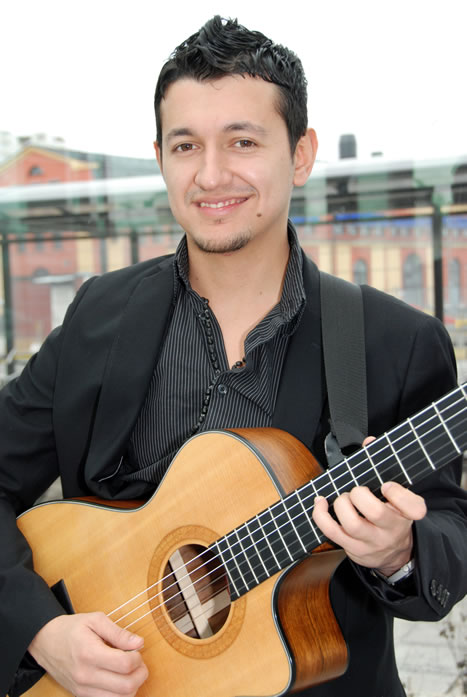 Juan David Restrepo
Dipl-, Guitar player, producer, composer and M.D.
Juan David Restrepo a colombian guitar player|producer|songwriter| M.D. and educator. In 2002 he travel to Germany as guitar player of"Latin Sampling", to take part in the Internation Festival "Jugend Jazzt". After with his band received the first price in this festival, Juan decided to settle down in Germany, country in which i still reside. Juan found also w/ two colleagues in Germany the Latin-Music Label  "Musica de Alla"
Juan David Restrepo graduated as a 'Professional Musician' (on Jazz Guitar Performance) at the "Cologne College of Music" under the tutelage of Frank Haunschild. He took also lessons with various artists and great persons such as Kenny Wessel, Steve Khan, Steve Cardenas, Brad Shepik, Bruce Arnold (Prof. at Berklee and London Conservatorium), Tony Moreno, Paul Shigihara and Mimi Fox at the Steinhardt School of Education at New York University. Juan won a scholarship to study at BERKLEE College of Music in Boston.
Thanks to Yamaha Guitars and Weisse Hugel instruments for they endorser. He has a long list of live experience with his band "Latin Sampling" and as sideman for Locos por Juana (Latin Grammy 2005/Universal, American Grammy 2008), ERAZZO (Nominee "Premios Luna" with "Eres Tu" best song/which i produced), Conexión Latina (enja records Artist), Djamel Laroussi, Senait Mehari (Universal Artist),  Luciano di Natale(italia), Tony Greer, Nico Suave, MuHo Bigband, LAJAZZO Big Band, NDR Big Bag "Latin Sampling" Preistraegerkonzert, Tomas & sus quijotes, Mirta Junco, Yasmin K., David Granados,  Inusa Dawuda,  Marco Matias, Wolfgang Niedecken(BAP), Addys Mercedes, Cesar "El Chino" Peréz.
Juan have been on stage in the USA, Colombia, Austria, Switzerland, Netherland, Spain, Sweden, Lettland, Estonia, Germany, Irland, Qatar, Denmark &  North Africa. Also,  at several renown festivals such as PANAFRICAN FESTIVAL 09 (Algeria, Noth-afrika), Burghausen Jazz Festival, Ruhr Klavier Festival(Bochum), Salzburger Jazz Herbst (Vienna), FesuJazz, Mar Caribe Jazz, Hamburg Jazz Open, Ostsee Jazz festival in Rostock, 17. Neubrandenburger Jazz Fruehling,  Rock al Parque (Barranquilla), and many others.
Performances :
+—————
Ruhr Klavier festival, Bochum / Germany
PANAFRICAN FESTIVAL 09 / Algeria-North afrika
Neubrandenburg Frühling jazz festival / Germany
Burghausen Jazz festival, Germany
Barranquijazz 1998-2001-2002-2006, Barranquilla / Colombia
Sierra Mar y Jazz fesival, Sta. Marta / Colombia
FESUJAZZ (Festival Universitario de Jazz), Bogota / Colombia
Ostsee jazz festival, Rostock / Germany
Planten und Blomen jazz festival, Hamburg / Germany
Jazz im Hinterhofgarten festival, Düsseldorf / Germany
Birdland, Hamburg / Germany
Domicil, Dortmund / Germany
Harmony feat. Ack van R., Bonn / Germany
Jazz Festival, Vejle / Denmark
Jamboree Jazz Club, Barcelona / Spain
TOUR LAJAZZO BIG BAND ESTONIA/ (Tallin, and others…)
JAZZCID, Miami / USA
NYU, New York / USA
SOL Y SOMBRA, /Irland
World Music Festival in DOHA / Qatar (arabia)

YAMAHA Europe Central
(www.yamaha.de)
(http://www.centromusicalcmb.com/weisse/en/index.php)